Chris De La Rosa grew up in Milwaukee as the son of Polish mother and Mexican father, and to this day Chris honors both traditions.  Chris's grandfather advised Chris at an early age that if he learned to fix things well he would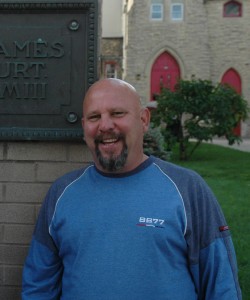 never be short of work.  Chris does constantly fix things and much to the benefit of our tenants.
Chris has over 25 years experience in building and maintaining buildings including homes, apartments, and commercial buildings.  Further, Chris has significant experience and interest in maintaining historic buildings.  Also, Chris takes great pride in doing the little but important things that make the lives of our tenants more comfortable and fulfilling such as keeping our buildings clean, planting and tending our gardens, fixing a stuck drain in a timely fashion, etc.
Chris is also an outstanding team player who never hesitates to help other Hennessy Group team members when they need help, who often brings himself and others at critical moments when help is needed in solving problems or handling critical tasks, etc.  Lastly, Chris is a great cook as is evidenced by the rave review he often receives re his Chimichangas and the other culinary delights he serves at building cookouts.
Meet the Staff